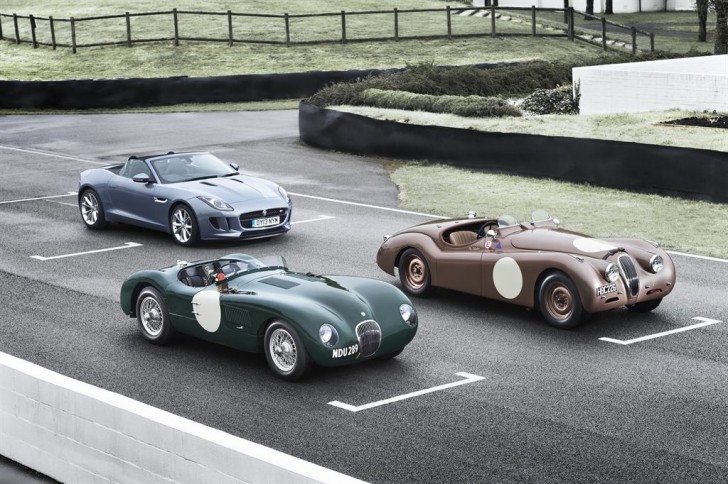 Jaguar has curated a unique team of drivers for its Jaguar Heritage Racing entry into this year's Mille Miglia classic car tour. Taking the seats of outstanding examples of Jaguar C-Type and XK120 heritage race cars will be six-time Olympic cycling Champion Sir Chris Hoy, global supermodel David Gandy, Le Mans 24 Hours race winner Andy Wallace, Chairman & CEO of 20th Century Fox Jim Gianopulos - who will drive with a film industry colleague, German actress Hannah Herzsprung, Italian Salvatore Ferragamo Jr., fashion icon Yasmin Le Bon and Michael Quinn, the grandson of Jaguar founder Sir William Lyons.
This exciting list of classic car enthusiasts will be led by Jaguar Heritage Racing's own multiple race winner Alex Buncombe and motoring journalist Chris Harris, who will link up for the event in a Jaguar C-Type once owned by former Formula 1 Champion Juan Manuel Fangio.
The Mille Miglia is the pinnacle of classic motorsport, and the competitive event in 1952 saw Jaguar debut the disc brake on its C-type sports car, piloted then by Jaguar Chief Development Engineer Norman Dewis and Formula 1 legend Sir Stirling Moss. Norman Dewis was with some of the 2013 Jaguar Heritage Racing team at Goodwood Motor Circuit this week, in a driver training session which was captured on film.
The line-up of three C-Type race cars and three XK120s will be followed on the majority of the driving route by five new Jaguar F-TYPE sports cars.
Jaguar Regional Director for Europe Bernard Kuhnt - who will drive with Hannah Herzsprung in the event - said: "Jaguar's 1952 entry into the Mille Miglia was hugely significant in the evolution of Jaguar products. Seductive design, intelligent performance and technological innovation were features of all Jaguar sports cars in the 1950s and 60s and they are prevalent in the incredible new F-TYPE. I am delighted that the Jaguar sports car 'bloodline' will be together in this great race and that such an exciting list of individuals will come together to celebrate the occasion and drive our cars."