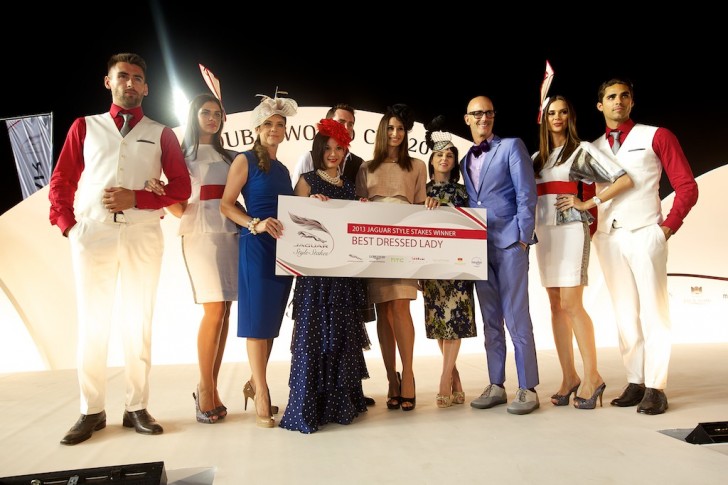 Dubai's racing calendar concluded on Saturday with a spectacular turnout at Dubai World Cup in Meydan. The world's richest horse race attracted the very best international and local talent from the world of horse racing along with hundreds of Dubai's fashionistas, all hoping to claim the best dressed accolade at the Jaguar Style Stakes.
Ilona Saleski was named the overall Jaguar Style Stakes winner as Best Dressed Lady and was chosen from hundreds of entrants by an expert judging panel. Ilona is pictured next to one of Jaguar's top performance cars; the Jaguar XK Coupe with Robin Colgan, Managing Director, Jaguar Land Rover, which she will have the use of for one year.
Additional prizes for the Best Dressed Lady and the winners in other award categories included a weekend Jaguar driving experience, a new HTC Smartphone, N-Style pamper packages along with luxury dining and overnight experiences at Bab Al Shams Desert Resort and Spa, The Meydan Hotel and the exclusive Meydan Beach. The winner in the 'Most Elegant Lady' category received a luxury steel and rose gold Longines ladies' watch set with 30 diamonds from the new Conquest Classic collection.
The annual Jaguar Style Stakes receives thousands of entry requests but just over 500 registrations are accepted for the six categories to ensure that each participant has a fair chance to shine among their peers in what has become one of the region's most anticipated days on the fashion calendar.
Following a busy day on the judging panel of the Jaguar Style Stakes, Nicola Gibson, Marketing Manager for Jaguar MENA commented; "Over the past four years as a judge I have witnessed a magnificent display of fashion and creativity. Each year I can really feel the enthusiasm and passion that participants have for the event. The stakes literally do become higher each year and it is great to see Dubai's ladies, and gents, make such an effort with hats, fascinators, beautiful dresses and smart suits. The Style Stakes continues to be a perfect brand synergy for Jaguar as it embodies the same combination of style, elegance and grace, and we look forward to working closely with Meydan for future endeavours."
The full lists of prize winners are:
Ilona Saleski, Best Dressed Lady
Evelyn McDermott, Runner Up: Best Dressed Lady
Alisha Foley, Best Hat
Simon Hanft, Best Dressed Man
Meredith and Mohd Pour, Best Dressed Couple
Alina Polyakova, Longines Award for Most Elegant Lady
Niayesh Ostadhossein, Most Creative Hat
Find all photos of the Jaguar Style Stakes in our Galleries Jaguar Style Stakes | Dubai World Cup 2013 and Jaguar Style Stakes | Behind The Scenes