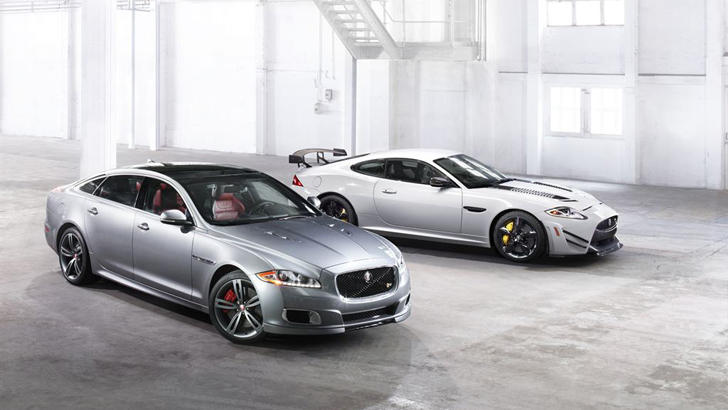 Jaguar has today unveiled two new additions to its R performance range, the XJR sedan and the XKR-S GT.
The 550PS XJR – Jaguar's new flagship sports saloon – combines supercar performance and assertive looks with the high levels of luxury already associated with the XJ range. It is capable of sprinting from zero to 60mph in 4.4 seconds (0-100km/h in 4.6 seconds) and on to an electronically limited top speed of 174mph (280km/h).
The XKR-S GT, developed by Jaguar's ETO division, is the ultimate road-going but track-ready version of the XK coupe. The XKR-S GT features bespoke aerodynamic components and suspension developments to increase downforce and optimise high-speed cornering ability. It will reach 60mph in just 3.9-seconds, develops up to 145kg of downforce, and is the first production Jaguar to be fitted with carbon ceramic brakes. Initial production will be limited to just 30 units, making it the rarest 'R' model in the 25-year history of Jaguar's R performance cars.
"The new XJR epitomises the three pillars of technology, performance and seductive design which the Jaguar brand stands for in the twenty-first century, while delivering new levels of dynamic ability in a luxury saloon.
"The XKR-S GT is the most extreme iteration of the Jaguar R Brand's performance focus. Utilising race-car derived technology, all-aluminium construction and an uncompromised approach to aerodynamic efficiency, the result is a car as capable on the track as it is exhilarating on the road."
Adrian Hallmark, Global Brand Director, Jaguar
Click here to read more about the Jaguar XKR-S GT and the Jaguar XJR