Jaguar 2013 Model Year XF And XJ | Technology Updates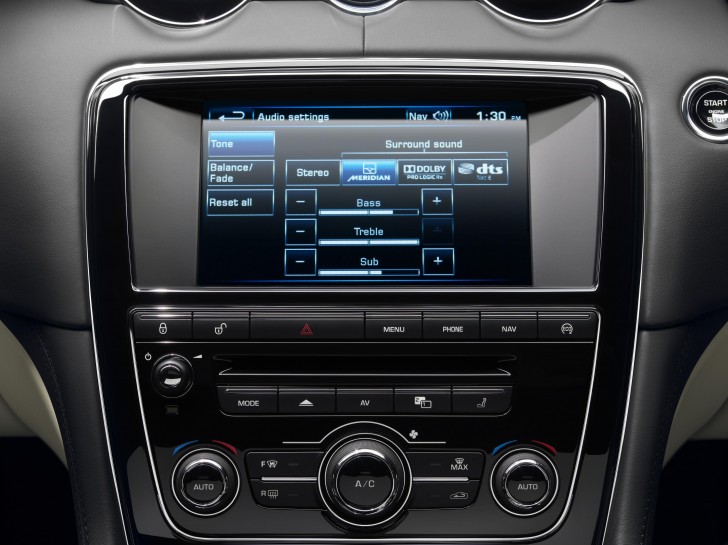 The intuitive, Jaguar Touch-screen-based infotainment system integrated into the XF and XJ receives an update for the 2013 model year, extending a number of its entertainment, navigation and connectivity functions.
The optional TV tuner is upgraded with the former now capable of receiving both Mpeg4 as well as Mpeg2 encoded transmissions, dependant on market. Upgrades have also enhanced the browsing functionality of the iPod interface.
The satellite navigation system also offers a number of new features that extend its capabilities and user-friendliness. An important new addition is the 'ECO Route' option that optimises the roads used on a journey to minimise fuel consumption and emissions.
Making full use of the clarity of the central touchscreen, the Dynamic Zoom feature automatically zooms in when the car approaches a junction, both on the motorway and more minor roads to make the upcoming route more obvious. Similarly, Visual Lane Guidance makes use of the split-screen function to highlight the route when the driver approaches a junction where directional arrows are painted on the road surface. Lastly, when the car is on a motorway, overhead sign information is duplicated within the satellite-navigation display.
In order to increase the usefulness of the navigation still further, Jaguar has developed a number of new features. The 'Avoid Area' function is now extended to the Stored Locations sub-menu to allow the system to remember it for future journeys, the area itself can be programmed using a variety of destination entry methods and the size of it can be decided by the driver.
The Points of Interest (POI) feature can be extended by downloading POIs from the internet and then stored on the in-car system via a USB memory stick. Additional enhancements to the infotainment system include Arabic route guidance and a full on-screen QWERTY keyboard for the search function on a paired phone.